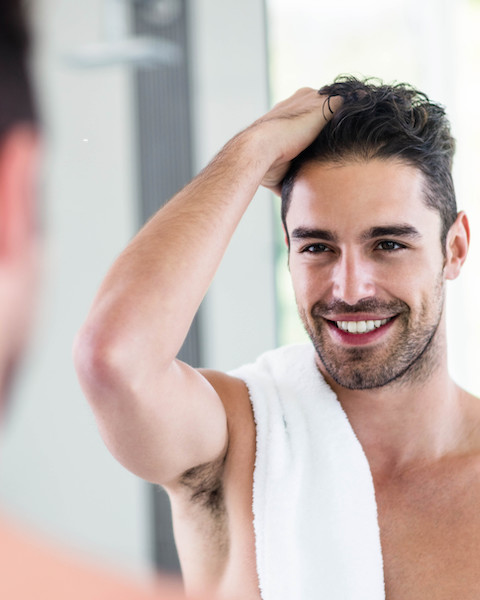 Patients that have suffered significant damage or external loss to the ear due to trauma can benefit from ear reconstruction by a qualified plastic surgeon. Considering the delicate nature of the ear tissues, its functional role and the influence that the ears have in balancing your facial beauty, it is imperative that you choose a skilled facial plastic surgeon who specializes in ear reconstruction to gain the most natural-looking and successful results.
Dr. Sanaz Harirchian is board certified by the American Board of Otolaryngology Head & Neck Surgery and fellowship trained in Facial Plastic & Reconstructive Surgery. She understands the careful balance of artistry and skill that it takes to rebuild the external structures of the ear. This may involve grafting techniques to replace partial ear loss or to reconstruct the natural shape and contour of the ear or ear lobe. You can trust that when it comes to ear surgery at our Houston practice, Dr. Harirchian uses the latest and most proven methods to help you achieve dramatic results. When possible, she adopts minimally invasive techniques to accelerate your recovery and minimize downtime.
Ear Trauma Corrective Surgery
Due to their exposed position on the head, the ears are more vulnerable to injury during an accident or trauma. This may involve minor damage or severe mutilation of the ear. If you are suffering from ear disfigurement due to trauma, you can turn to Dr. Sanaz Harirchian for excellence in corrective ear surgery. In the hands of a skilled and experienced reconstructive surgeon, your ear can be rebuilt to project a natural, balanced and attractive appearance.
It is not uncommon for ear reconstruction surgery to be done in stages, as this may be necessary to allow certain areas of the ear to heal and settle into place before the next phase of surgery is performed. Many cases benefit from rib grafting techniques, an effective and time-tested approach to reconstructing lost or damaged ear cartilage using a patient's own tissue.
When it comes to correcting ear trauma, Dr. Harirchian will meet with you to discuss your individual goals and evaluate your unique clinical needs. We value the importance of educating our patients on what to expect during their ear reconstruction so that they feel informed and confident in their treatment plan. As with all of our cosmetic and reconstructive procedures, Dr. Harirchian uses a tailored approach to accommodate the unique needs and desires of each individual patient.
Dr. Harirchian will listen to your issues and explain the treatment. The staff are very helpful and friendly.
Damage to the ear can be devastating. We are proud to have the opportunity to give patients hope after traumatic ear deformities by offering our expertise in ear reconstruction. Contact Dr. Harirchian today for a consultation at our plastic surgery center in Houston.