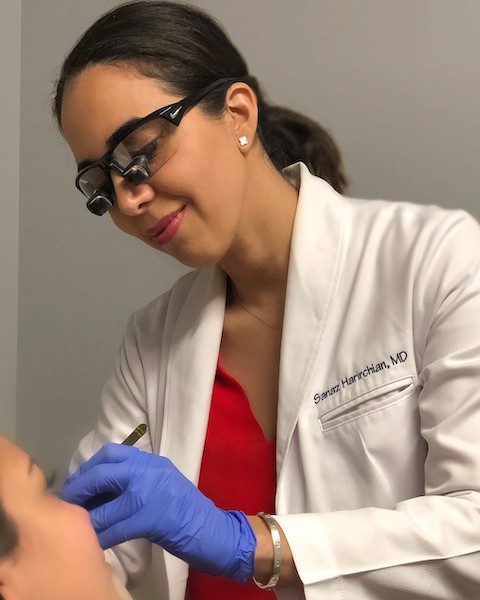 As part of Dr. Harirchian's excellence in facial reconstruction, she offers an invaluable procedure to help patients overcome the upsetting effects of facial paralysis. Facial paralysis can occur following a facial trauma, as a result of Bell's Palsy or from acoustic neuroma. Regardless of what caused your facial paralysis, the impact on your self-esteem and quality of life can be dramatic.
Facial paralysis involves damage to the nerves of the face. These nerves not only allow us to feel, touch and other sensations, but they also signal our muscles to move as we make expressions or communicate. Facial paralysis can lead to significant asymmetry in the face, particularly since it commonly affects one side. This asymmetry affects both the cosmetic appearance of the face as well as its functional capabilities. Some patients find it challenging to speak, chew, drink and make expressions properly. Fortunately, a skilled reconstructive facial plastic surgeon can alleviate these disruptive concerns.
Cosmetic Surgery to Repair Facial Paralysis
If you have a distorted face or loss of functionality due to facial paralysis, Dr. Harirchian can evaluate your candidacy for facial reanimation surgery. Cosmetic surgery to repair facial paralysis involves restoring balance and symmetry to the facial features affected by paralysis, including droopiness in the eyebrows, eyelids, nostrils, cheeks and lips. By using advanced surgical techniques to correct imbalance, the patient is able to not only look more attractive and natural but also gain improvements in functionality. The ability to eat and drink normally and make natural facial expressions can be a life-changing solution for patients who suffer from permanent facial paralysis. I had a great experience with Dr. Harirchian! She and her staff are very nice and personable. Easy scheduling and worth every penny. She did great work and I would totally recommend her to others!
If you have suffered facial paralysis and want to gain a more confident lifestyle despite your condition, turn to the expertise of Houston's most skilled facial reconstructive surgeons. Dr. Harirchian will carefully evaluate your concerns and determine which treatment plan will best correct your facial distortions and asymmetry. Contact our office today to schedule your consultation.