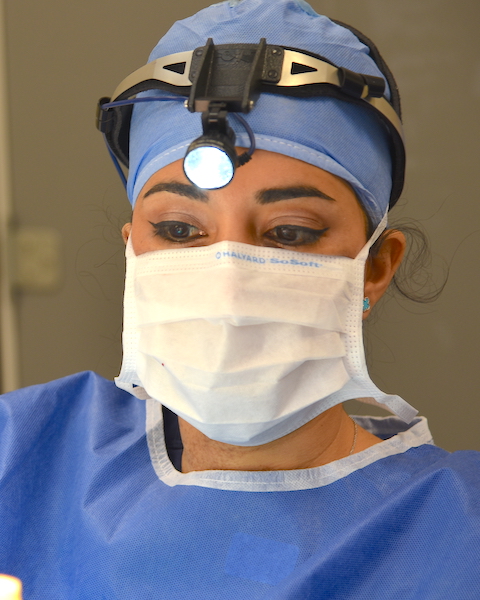 Your scars may tell a story of your past, but they do not necessarily have to dictate your future. Dr. Sanaz Harirchian is proud to offer scar revision surgery to patients in Houston and the surrounding area. Dr. Harirchian is a reputable facial plastic surgeon who offers a full menu of surgical and non-surgical cosmetic treatments to restore and enhance your appearance. When it comes to unsightly scars on the face, she takes a meticulous and personalized approach to minimize their appearance with facial reconstructive procedures. Your scar treatment will be based on factors such as the scar's location, size, age and type. It is also important to consider whether or not your scar is simply a cosmetic concern or one that also compromises facial expressions or other functional features of your face. You can trust Dr. Harirchian to bring talent, skill and artistry to your scar revision surgery so that you can live a more confident life going forward.
A Facial Plastic Surgeon for Your Scar Revision
Facial scars can develop as a result of previous surgeries, burns, accidents or certain medical conditions. Regardless of what caused your scar, Dr. Harirchian is exceptionally qualified to treat it appropriately and provide the most dramatic improvement in your appearance. There are a number of treatment options for scar revision, including but not limited to steroid injections to flatten a raised scar, direct surgical excision to narrow an extensive scar and surgical subcision to elevate an "ice pick scar." Non-surgical treatments such as laser therapy, dermabrasion and facial fillers can also reduce certain types of scarring.
Dr. Harirchian realizes that every scar is unique and scars are often very personal to the patient. Therefore, you can trust that she will take the time to carefully listen to your concerns and goals for revision and customize a treatment modality accordingly.
Dr Harirchian is a highly gifted facial plastic surgeon who did an absolutely beautiful job on my forehead scar revision recently. She is extremely honest and straight forward and caring at the same time. I will always be grateful that she steered me away from chasing unnecessary laser procedures and instead went to the root of the problem and revised the scar. What an amazing difference. She quietly told me at my first consultation that "she could make it look better" and she certainly delivered. She also is very fair and doesn't overcharge. Thank you so much Dr. Harirchian. Forever grateful! I just love her assistant too and the whole front desk crew.
If you would like to schedule a consult regarding scar revision with Dr. Harirchian, please contact our Houston office today. It is important to know that the timing can be a very influential factor in your outcome, as most scars need to mature for about 9 to 12 months before revision surgery is initiated.