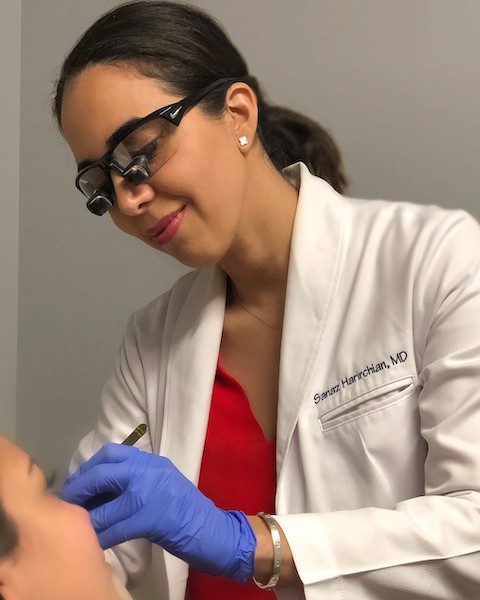 Dr. Harirchian is pleased to offer the most proven facial filler products available, including those that are uniquely designed for the lips. Just like the surrounding facial features, your lips suffer from volume loss over time. Unfortunately, this creates thin and poorly defined lips as well as fine lines and wrinkles around the mouth. To address these concerns using a non-surgical approach, Juvederm Volbella injections may be used. Volbella is the latest lip filler product from the reputable line of Juvederm. It carries a reputation for providing soft, natural fullness to the lips with unmatched sustainability. Juvederm Volbella has been proven to last longer than previous lip filler products, with some patients retaining their youthful lips for up to one year following treatment. As with other facial injectable treatments, patients can benefit from a painless, no downtime procedure that provides quick rejuvenation to aging areas of the face.
Increase Lip Fullness – Soften Smoker's Lines
Volbella is a smooth gel that contains a modified form of hyaluronic acid. Hyaluronic acid is naturally found in the body and plays a vital role in collagen building on a cellular level. When injected by a skilled plastic surgeon, Volbella can create valued improvements in the lips and around the mouth, including the following:
Increase volume and fullness to the lips

Smooth and soften vertical lines around the lips

Define the cupid's bow of the upper lip

Improve lipstick bleed lines

Reduce the appearance of marionette lines or smoker's lines
Dr. Harirchian understands the importance of having lips that are full, defined and smooth. The lips can play a key role in how young and sensual you feel and look. She also understands that not every patient desires to or can afford to undergo lip plastic surgery to attain more desirable lips. Therefore, our Houston facility is proud to offer Volbella injections as a comfortable and effective solution. Not only does Dr. Harirchian uses gentle, precise techniques to minimize discomfort and bruising, but the Volbella gel itself is also infused with an anesthetic to ensure your treatment is as painless as possible.
Is Juvederm Volbella XC right for you? Contact our office today to schedule an appointment with Dr. Harirchian in Houston. She is a reputable facial plastic surgeon who is committed to giving patients the highest standard of care when it comes to non-surgical facial rejuvenation. Using Juvederm Volbella, she can highlight your beauty and restore vitality to your lips.