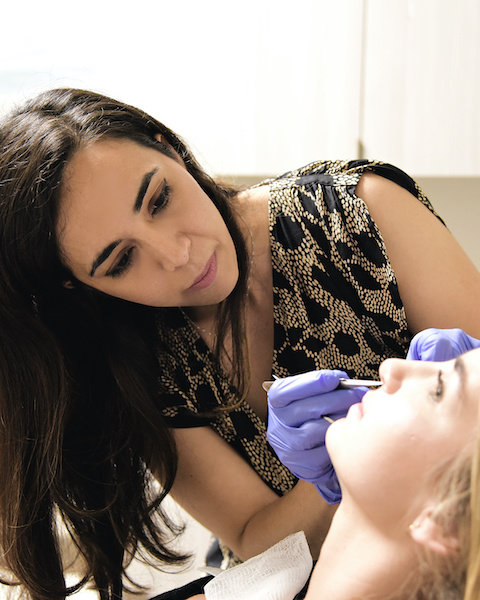 While the appearance of the lips can certainly suffer from the aging process, it is also possible for patients to encounter lip imperfections that were caused by other factors. Lip defects or abnormalities may affect both the function and aesthetics of the lips. In order to restore beauty and balance to the lips as well as ensure proper speech and swallowing are no longer limited, a lip reconstruction may be needed. Dr. Harirchian is an esteemed facial plastic surgeon with a strong reputation in cosmetic lip reconstruction for young and old patients in the Houston area. Our state-of-the-art facility offers an expansive list of lip procedures, including fat grafting, lip reduction, lip augmentation and lip enhancement. Dr. Harirchian uses both surgical and non-surgical techniques to give patients the ideal lips they deserve. If you have flawed lips that you were born with or defects that were caused by an accident or previous surgery, we can help.
Cosmetic Lip Repair From A Skilled Reconstructive Surgeon
Patients seek lip reconstruction for a number of reasons, ranging from a malformation present at birth to a traumatic injury to the lips as an adult. Dr. Harirchian brings extensive training and experience when performing cosmetic lip repair due to the following:
Congenital Abnormality

Trauma or Injury

Facial Paralysis

Mohs Surgery (skin cancer removal)

Cleft Lip Repair
The timing of your cosmetic and reconstructive lip repair is dependent upon the cause and type of your lip defect. While traumatic injury to the lips should be repaired immediately, lip reconstruction after a cleft lip repair in a baby should occur when the child is older and more developed. Rest assured that Dr. Harirchian carries a keen understanding of the best timing and surgical approach for your lip reconstruction so that you can achieve the most natural-looking and sustainable results.
To begin your treatment plan for lip reconstruction, contact Houston's leading facial plastic surgeon for a consult today. Dr. Harirchian deeply values a patient-centered approach when it comes to cosmetic and reconstructive procedures on the face. She will tailor a treatment plan that meets your clinical needs and personal goals.