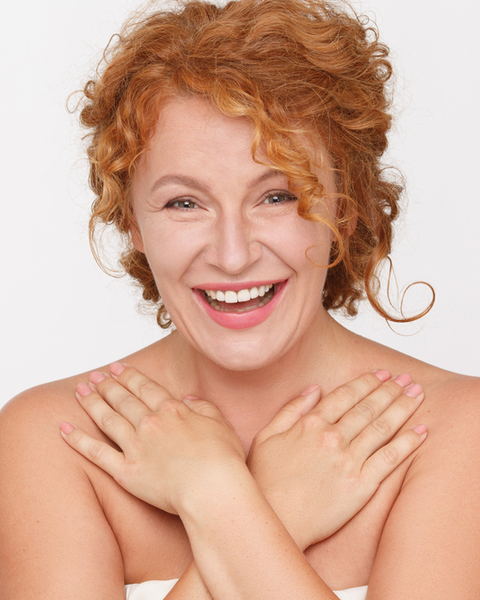 Skin rejuvenation is not restricted to your face. Unfortunately, other parts of our body suffer dramatic signs of aging as well. For many, the hands and décolletage are a common concern, as they are visible areas that can appear wrinkled, aged and unsightly. Dr. Harirchian is proud to provide patients with complete skin rejuvenation, with the ability to not only address the face, but also the neck, décolletage and hands as well. She is an elite facial plastic surgeon who pursues the latest, most advanced non-surgical treatments to restore aging skin. For women, wrinkled cleavage and age spotted hands can be problematic, making them feel and look older despite their efforts to maintain a youthful face. Fortunately, there are proven treatment options to rejuvenate these areas for women.
If you avoid low cut shirts due to your aged chest appearance, you may want to consider non-invasive décolletage treatment. Dr. Harirchian uses a variety of methods to tighten the skin and regenerate collagen in this area, including chemical peels and laser therapy. This can improve the appearance of wrinkled or crêpe-like skin and allow you to feel more confident in a dress with a plunging neckline. In addition, décolletage rejuvenation can be the perfect complement to a facelift or other cosmetic procedure for the face, creating youthful and blended results that extend past your jawline.
Stimulate Natural Collagen to Treat Wrinkles in Your Hand
The hands often age the quickest. As you get older, you may notice wrinkles, age spots, thinner skin and more prominent veins and tendons in your hands. These are brought on by the natural effects of aging within the skin. Dr. Harirchian is proud to offer hand rejuvenation therapy that can effectively revitalize and freshen the hands without surgery. Our Houston facility offers a number of treatment methods, including microdermabrasion, chemical peels, microneedling and dermal fillers to improve skin texture and tone in the hands. In addition, Dr. Harirchian is highly qualified to administer PRP (platelet-rich plasma) injections, the latest non-surgical treatment that utilizes the power of regenerative medicine to rebuild healthier, younger-looking skin.
To learn more about how you can rejuvenate your décolletage and improve wrinkles in your hands, contact Dr. Harirchian today for a consultation. We welcome the opportunity to help you regain a more confident and youthful appearance using treatment methods that are safe, gentle and highly effective. Best of all, hand and décolletage treatments are low cost and low risk procedures that allow you to return to normal activities immediately.