Page Updated: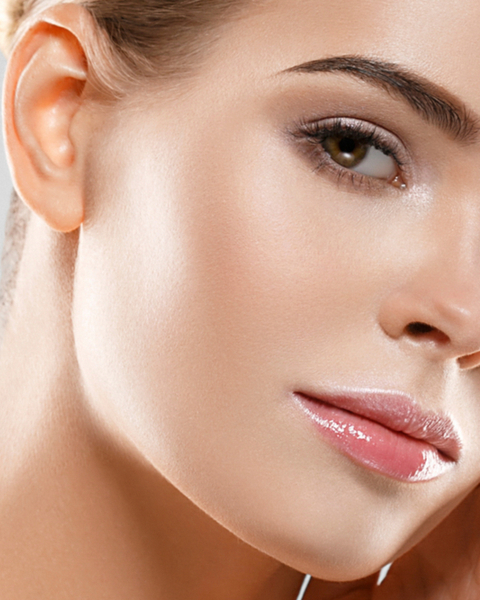 Microgold Infusion in Houston
In as little as 20 minutes, gold infusion microneedling can dramatically improve the tone, texture, and elasticity of your skin with no pain and little to no downtime. This state-of-the-art non-surgical cosmetic treatment infuses the skin with a customized blend of wrinkle reducers, hydration, and vitamins while also boosting the skin's natural restorative properties from within. The results — more youthful skin with a healthy glow — are immediate and long-lasting.
For the latest in facial rejuvenation, Houston-area patients put their trust in Dr. Sanaz Harirchian, whose gentle touch and technical expertise ensure a comfortable experience and stunning outcome.
How Does Microgold Infusion Work?
The many benefits of microgold infusion are a result of two factors. One is the specialized infusion Dr. Harirchian customizes for each patient. The other key benefit of microgold infusion is that it boosts the body's production of collagen and elastin.
Collagen and elastin are proteins found in the middle layer of the skin (the dermis), and help keep skin firm, plump, and elastic. The body's natural production of both of these proteins decreases as we age, causing skin to become increasingly wrinkled and lax.1
Unlike topical treatments that mostly work on the surface of the skin, the beauty blend used in microgold infusion is delivered below the skin's surface into the dermis where it can be absorbed for maximum impact.
One of my favorite procedures for glowing, radiant skin.
– Dr. Sanaz
Dr. Harirchian uses the elite AQUAGOLD fine touch™ applicator for microinfusion. This patented device uses hollow needles that are thinner than a human hair and plated with 24-karat gold. It is perfectly designed to deliver "microdroplets" of the customized elixir directly into the dermis. Plus, the needles themselves create tiny injuries to the skin, which stimulate the release of collagen and elastin as part of the body's natural healing response—helping to rejuvenate the skin at a cellular level.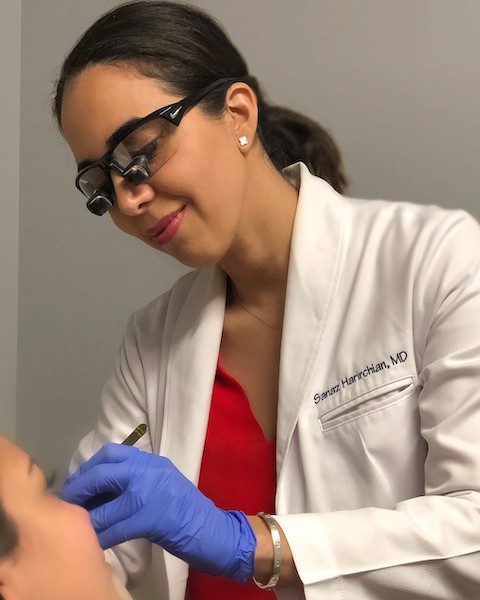 Benefits of AQUAGOLD® Infusion
Microgold infusion provides near-instantaneous rejuvenation to skin on the face, neck, décolletage, hands, and other areas.2 Benefits include:
Decreased pore appearance
Reduced appearance of fine lines
Enhanced collagen production
Improved hydration for plumper skin
Improved elasticity
Many patients look at microgold infusion as a step up from microneedling, as it delivers the same collagen-stimulating results with the added benefit of infusing the skin with active compounds.
Microinfusion Treatment
The first step in microinfusion treatment is a consultation with Dr. Sanaz Harirchian, where you'll discuss your goals. Dr. Harirchian will then design a customized blend of hyaluronic acid, neurotoxin, and other beneficial additives to be used during your treatment.
Because Dr. Harirchian uses a microinjector with microchannels, the treatment at her Houston practice is painless. Topical anesthetic is applied for 20 minutes, and the procedure generally takes about 20 minutes and requires no downtime. Patients who have very sensitive skin may experience slight redness in the treatment area during the first hour following treatment, which quickly resolves.
Learn More About Facial Rejuvenation Treatment
If you'd like to achieve effective facial rejuvenation in less than an hour, gold infusion microneedling with Dr. Harirchian may be the ideal treatment for you. To learn more about this and other skin rejuvenation treatment options in Houston, please contact us to schedule your personal consultation with Dr. Harirchian.
---