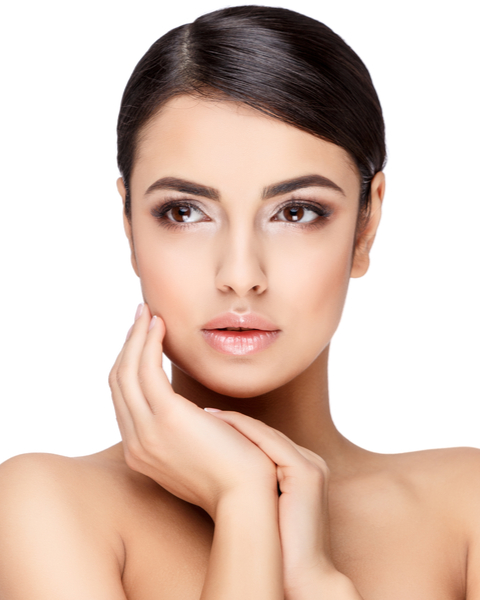 All noses are unique, and should ideally fit each individual face.
However, there are some ethnic similarities and trends between noses. Middle Eastern patients want a surgeon that understands and is experienced with Middle Eastern Rhinoplasty. The results from this nose surgery should be natural, beautiful, and ethnically appropriate. The goal of rhinoplasty is to highlight the individual's eyes, and create a nose that is harmonious with the rest of the face.
Middle Eastern noses have certain characteristics. A Middle Eastern nose typically has a bump on the bridge, is overprojected ("sticks out too far") and wide, may have a droopy tip, and has a wide and poorly defined nasal tip.
Female Middle Eastern patients seeking rhinoplasty typically want a smaller, more elegant and refined nose. Being a female Middle Eastern facial plastic surgeon herself, she understands what aesthetic outcomes her patients are looking for. During rhinoplasty surgery, the bump on the bridge is removed to give a straight or slightly retroussé profile and the nose will be narrowed. In male patients, it is important to keep a straight nasal profile to avoid a feminine nose. Dr. Harirchian uses advanced surgical techniques to carefully sculpt a smaller more defined nose which looks natural. Dr. Harirchian's techniques involve sculpting, suturing and repositioning the tip cartilages as well as adding grafts to achieve a narrow nasal tip instead of excising or removing significant amount of nasal tip cartilage. Older techniques relied on removing a significant amount of tip cartilage, which can lead to a pinched, retracted and unnatural appearing nose. Having Dr. Harirchian preform my rhinoplasty and septoplasty feels like the best decision I have ever made. She explained everything I needed to know and answered all of my questions, and this made me very comfortable and excited to have the operation. She did an incredible job, and I do not think any other surgeon could have done better. She strives for perfection in everything she does, and it shows in her work.
What will the consultation be like?
Your consultation will typically last an hour. You will have a thorough discussion with Dr. Harirchian about what you like and don't like about your nose. She will examine your nose and take photographs. Dr. Harirchian will discuss what realistic, achievable, and desirable changes can be made to your nose. Imaging is very important in the consultation and preoperative planning for rhinoplasty. She will show you the changes that can be made to your nose on our imaging system. Imaging is very helpful for deciding what looks best on your face, as well as making sure you and your surgeon have the same aesthetic vision. Contact us today to schedule your consultation with Dr. Harirchian.