Page Updated: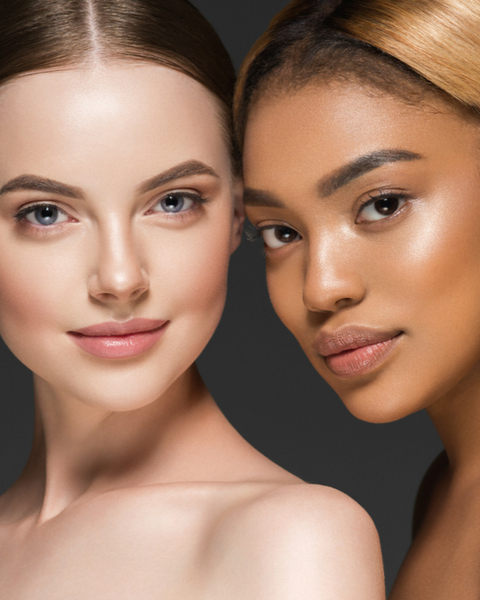 Rhinoplasty in Houston
Rhinoplasty is a surgical procedure to reshape the nose. As a central feature of the face, a nose that is out of proportion can detract from other facial features. The goal of rhinoplasty surgery is to create harmony with the rest of the face. In addition to helping you achieve aesthetic goals, rhinoplasty can also improve nasal breathing.

Houston Rhinoplasty Specialist Dr. Sanaz Harirchian believes that rhinoplasty should achieve a natural looking result that is proportional to your face and enhances your unique appearance. Dr. Harirchian is a Board-Certified Facial Plastic Surgeon and her practice is entirely dedicated to aesthetic and reconstructive surgery of the face. Rhinoplasty is a delicate operation and requires advanced knowledge of both the form and function of the nose to achieve successful results. Dr. Harirchian utilizes her extensive skill and experience to produce rhinoplasty results that are beautiful, functional, and natural looking. In addition to primary rhinoplasty, she specializes in revision rhinoplasty, nasal fracture repair, ethnic rhinoplasty, and septoplasty, as well as non-surgical liquid rhinoplasty. Benefits of Rhinoplasty
Rhinoplasty has been among the most popular cosmetic surgery procedures in the U.S. for over 20 years. While each patient pursues nose surgery for their own personal reasons, potential benefits of rhinoplasty include:
Improve facial symmetry and harmony
Repair damage from injury
Correct a drooping nasal tip
Remove bumps from the bridge of the nose
Reduce the overall size of the nose
Reshape the nostrils
Straighten a crooked nose
Correct a deviated septum
Improve breathing
Boost confidence and self-image
How Does Rhinoplasty Surgery Work?
Preparing for Rhinoplasty
Your consultation appointment with Dr. Harirchian is your opportunity to learn more about your rhinoplasty options. Dr. Harirchian values patient communication and education and she will take time to discuss your goals and develop a personalized treatment plan that meets your needs. She uses an advanced imaging system that will allow you to view simulated changes. Once you have chosen to move forward with rhinoplasty, Dr. Harirchian and her team will give you detailed pre-op instructions.
What to Expect During Your Rhinoplasty Procedure
Rhinoplasty is an outpatient procedure performed with anesthesia. Dr. Harirchian prefers to use intravenous sedation (also called twilight anesthesia). This can minimize recovery and downtime, as well as reduce the chance of nausea after surgery. Anesthesia will be administered by a board-certified anesthesiologist.
Dr. Harirchian's rhinoplasty techniques focus on nasal cartilage preservation and reshaping to achieve natural-looking results. This approach avoids complications of cartilage over-resection, which can result in a pinched, collapsed, or deformed nose. Depending on your treatment plan, grafts harvested from the nasal septal cartilage or ear cartilage may be used to open up the nasal valves and improve breathing. Ear or rib cartilage may be needed in revision rhinoplasty cases.
Rhinoplasty Recovery
You may experience mild bruising and swelling in the days after your rhinoplasty surgery. Dr. Harirchian will recommend nasal sprays and a humidifier to relieve congestion. Rhinoplasty is not typically a painful operation, and patients often comment that the recovery was much easier than they anticipated. You will have a cast that will be removed approximately one week after surgery. We advise out of state patients to remain local for 6-7 days after surgery (until the day of cast removal). Then it is safe to fly home.
Dr. Harirchian will give you detailed post-operative instructions and schedule follow-up appointments to monitor your progress. Patients typically return to school or work within one week, but you will need to avoid strenuous activity for several weeks after surgery.
Rhinoplasty Results
You may notice improved breathing soon after surgery. Your true aesthetic results may initially be obscured by post-surgical swelling, but you may notice an immediate difference. As swelling subsides, you will be able to fully appreciate your improved appearance in the months after surgery.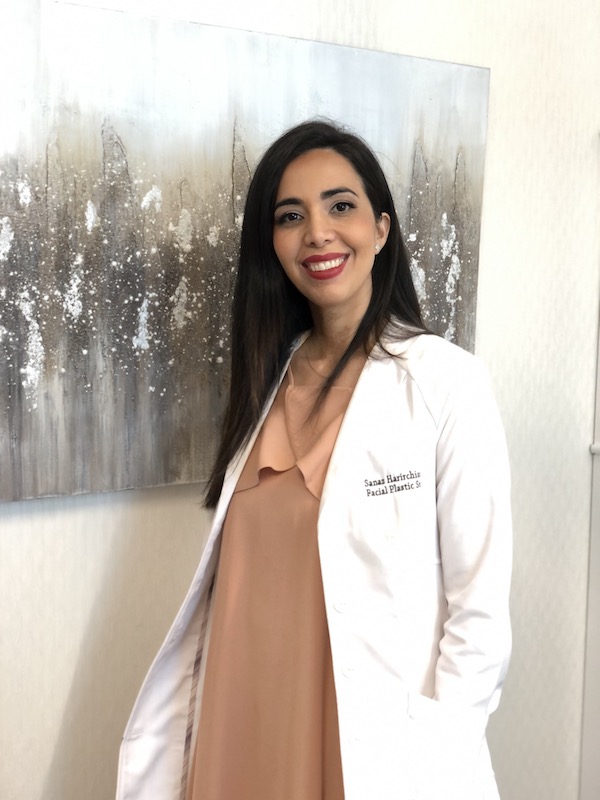 Why Choose Dr. Sanaz Harirchian for Rhinoplasty in Houston?
By focusing exclusively on facial plastic surgery, Dr. Harirchian has developed a deep and sophisticated understanding of the form and function of the nose as well as a meticulous eye for aesthetic detail. She uses advanced surgical techniques and provides each patient with a custom-tailored treatment plan. Dr. Harirchian's commitment to personalized care and excellent results has earned her recognition as Houston's top rhinoplasty surgeon. Learn more about Dr. Harirchian or contact us to schedule your consultation. I recently had a rhinoplasty done by Dr. Harirchian and she did a wonderful job!! Along with fixing the appearance of my nose, she also did a septoplasty and turbinate surgery to improve my breathing. Dr. H improved the breathing issues 100% and the outside appearance looks completely natural. She is a very caring and compassionate doctor who is great at what she does. She went above and beyond what I expected any doctor to do, she even personally took the time to check on me during my recovery period. Dr. Harirchian is very passionate about her craft. I would highly recommend her.
Frequently Asked Questions About Rhinoplasty
Am I a candidate for rhinoplasty?
If you wish to change the appearance of your nose and you are in good general health, then rhinoplasty may be right for you. The best way to determine if you are a candidate for rhinoplasty is to schedule a consultation appointment with Dr. Harirchian. In person and virtual consultations are available.
Is rhinoplasty safe?
Any surgical procedure carries some risk of side effects or complications. Potential risks of rhinoplasty include bleeding, infection, pain, and changes in sensation.
How will rhinoplasty affect my nasal breathing?
If you are considering rhinoplasty, it is important to find a surgeon who is knowledgeable and experienced in treating both appearance and function. Even if you do not currently have breathing issues, you can still benefit from choosing a surgeon who is careful and thorough in their approach to reshaping nasal structures. Studies show that many patients who pursue a revision rhinoplasty do so because their initial rhinoplasty caused difficulty with nasal breathing. Dr. Harirchian specializes in functional rhinoplasty, which means that she is skilled in repairing issues such as a deviated septum so that you can expect improved breathing function after your surgery.
If I need sinus surgery, can that be combined with rhinoplasty?
Yes, Dr. Harirchian's goal is to create a beautiful nose that is also well functioning. If you have any difficulty breathing through your nose, she can assess that during your consultation to determine if there is nasal obstruction that can be corrected during your nose surgery with a turbinate surgery, nasal valve reconstruction, or septoplasty. Dr. Harirchian does not perform sinus surgery, however can refer you to an experienced sinus surgeon if needed. Sinus surgery can be performed at the same time as your rhinoplasty.
Can I get a rhinoplasty if I have had fillers injected to my nose?
Yes, many of Dr. Harirchian's liquid rhinoplasty patients had have subsequent rhinoplasty surgery with her. However the filler needs to be dissolved. Undergoing rhinoplasty in the presence of existing filler can alter your long term surgical results. Hyaluronidase can be injected to your nose and will dissolve hyaluronic acid fillers. Adequate time needs to be given prior to surgery so that the filler is completely gone by the day of surgery. Please let Dr. Harirchian know of any filler treatments to the nose, even if it occurred years ago.
Will I have an open or closed rhinoplasty?
Dr. Harirchian typically performs rhinoplasty using an open method, which allows for greater visibility and more precise contouring of the nasal tip.
Will I have scars from rhinoplasty?
There is little to no visible scarring from a successful rhinoplasty procedure. Depending on your individual treatment plan, there may be a small incision at the base of your nose that will be strategically placed to minimize any visibility.
What should I expect for recovery time after rhinoplasty?
After rhinoplasty, you will have a cast on your nose for approximately 6 to 7 days. Once the cast is removed there may be some minor residual bruising, which typically resolves quickly and may be concealed with makeup. Patients usually take about one week off from work or school, although you may still go to work or school if you are comfortable doing so with a visible cast.
Can I blow my nose after rhinoplasty surgery?
Dr. Harirchian advises you to avoid blowing your nose until after your first postoperative visit, about one week after surgery. Patients who have had turbinate surgery in addition to rhinoplasty should wait 2 weeks.
When can I wear glasses after rhinoplasty surgery?
You may wear glasses while your cast is in place for the week after surgery, but once the cast is removed you must avoid wearing glasses for three months after rhinoplasty surgery. This includes eyeglasses and sunglasses. Please arrange to wear contact lenses and use hats for sun protection.
Will there be packing in my nose after rhinoplasty?
Dr. Harirchian uses advanced rhinoplasty methods and does not typically use nose packing.
How do I sleep after rhinoplasty surgery?
Ideally, you will sleep on your back for several months after surgery (not on your abdomen). For the first 2 weeks after surgery, try to sleep on an incline (30 degrees or 2 pillows). This can help improve swelling more quickly.
How soon after surgery can I shower? Can I get the cast wet?
For the first week, you can shower from the neck down. It is important that you do not get the cast wet. If the cast gets wet, it will come off and it cannot be put back on. You can wash your face with wash cloths or makeup wipes but avoid wetting the cast. If you need to wash your hair, you can either recline back over a sink or go to a hair salon to avoid getting the cast wet.
When can I resume exercise after rhinoplasty?
Ideally, you should wait 4 weeks before resuming exercise. If this is not possible, wait a minimum of 2 weeks and start with light exercise. When you increase your heart rate, you will increase blood flow to your nose which can result in more swelling. Be sure to ease back into your exercise routine and taper cardio based on the response to swelling in your nose.
What will my nose look like after cast removal?
It is normal to have swelling of your nose after cast removal. The swelling will look most prominent between your eyes (at the top of the bridge) and under your eyes. It is not uncommon to have a small degree of bruising under your eyes on the day of cast removal. This can be covered up with makeup once the cast is removed.
How long does it take the nose to heal?
The nose will look great after cast removal, but it is not your final result. There is considerable swelling which will take to resolve. Most patients look like they haven't had surgery just 10 to 14 days after surgery. The nose will be about 50% healed 3 months after surgery, 75% healed 6 months later, and the final 25% takes 1 to 2 years. Thinner skinned patients generally heal more quickly with swelling resolving more quickly, while thicker skinned patients may take longer. Revision rhinoplasty patients can expect the swelling to take longer to resolve than their primary surgery.
Does Dr. Harirchian treat out-of-town patients?
Yes, patients from across the country seek to benefit from Dr. Harirchian's expertise and proven results. If you are interested in traveling to Houston for rhinoplasty, we can schedule a virtual consultation appointment in order to determine if you are a candidate. Learn more about traveling to our practice. We advise out of state patients to remain local for 6-7 days after surgery (until the day of cast removal). Then it safe to fly home.
How soon after rhinoplasty can I travel by air?
It is safe to travel once the cast is removed. Contact Dr. Sanaz Harirchian
Dr. Harirchian and her team are here to answer any questions you may have about rhinoplasty. Dr. Haririchian also offers virtual consultations for your convenience. Contact us today to learn more or schedule your consultation appointment.