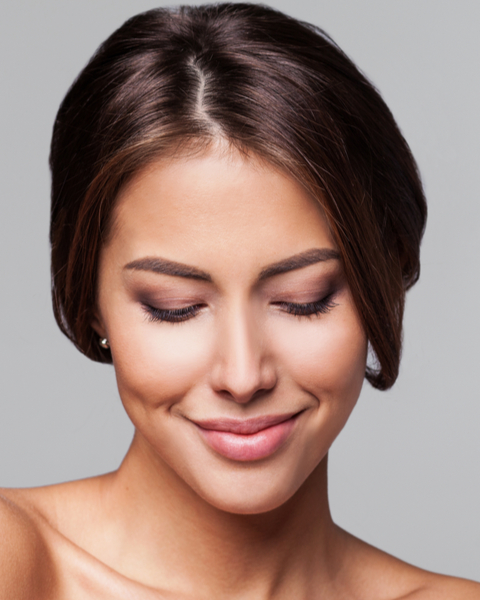 Cheek augmentation is designed to enhance the appearance of the cheeks by improving flat or underdeveloped cheekbones. Dr. Harirchian is a leading facial plastic surgeon who uses refined skill and advanced techniques during cosmetic cheek procedures. She helps patients regain a more vibrant and healthy appearance by improving cheeks that are hollowed, flat or asymmetrical. Rest assured that when it comes to plastic surgery on the face and neck, Dr. Harirchian adopts the latest treatment methods available with a passion to pursue minimally invasive options that bring patients optimal, long-lasting outcomes.
Cheek Implants
Dr. Harirchian can perform a successful cheek augmentation using cheek implants, or malar implants. These are made of safe, medical-grade materials that replicate the natural cheekbone in form and feel. By inserting cheek implants, Dr. Harirchian can often restore ideal harmony to the face, as flat cheekbones can create imbalance and disproportion when considered with the surrounding facial features. This procedure can also improve the gaunt or sunken cheek appearance that can happen with age. It is important to note that a cheek augmentation using implants does not produce the same results as a cheek or mid-face lift. Dr. Harirchian will take the time to discuss your unique concerns and recommend the most appropriate procedure technique for you.
Dr H is very personable and made us feel comfortable. Provided her clinical assessment and recommendations and gave us time to make decision on whether to move forward with procedure. Experience was good, outcome was excellent.
If you have further questions about cheek augmentation surgery and what it can achieve for you, please contact our office today. We value the importance of being transparent with our patients when it comes to facial plastic surgery so that you have realistic expectations at all times. Dr. Harirchian is a compassionate and knowledgeable cheek implant plastic surgeon who creates natural-looking results to help you reclaim vitality and beauty.