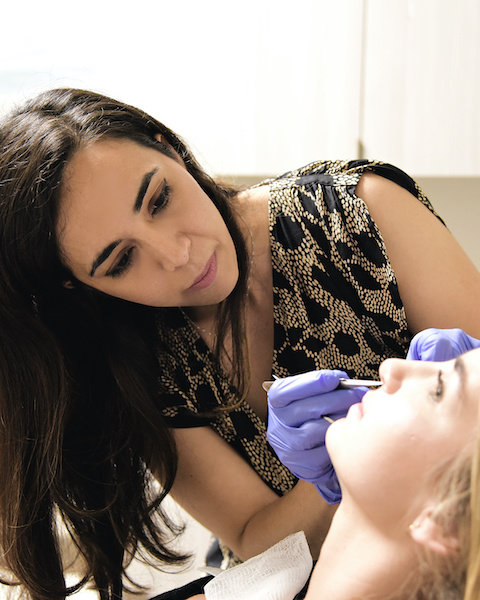 Facial trauma can result in simple or complex lacerations, scars or fractures of the facial bones. Dr. Harirchian takes great pride and care in helping patients feel and look their best after facial injury and trauma. Dr. Harirchian has extensive experience repairing and reconstructing facial trauma after training at two of the busiest academic trauma hospitals. Her significant reconstructive experience has given her an expert understanding of facial anatomy, form and function. This has made her an even better cosmetic and reconstructive surgeon.
Facial Reconstruction After Trauma
Both cosmetic and structural deficits can occur as a result of a facial trauma. Only a skilled and highly qualified plastic surgeon can properly restore the skin as well as the underlying bone structures of the face after a traumatic injury. Facial reconstructions can include a wide variety of procedures depending on the severity and location of damage. Dr. Harirchian is well trained in a full menu of cosmetic treatments as well as procedures to reshape the face and jaw using bone grafts, tissue transplants and other advanced methods. She is also an esteemed rhinoplasty surgeon to repair trauma to the nose, a common occurrence in facial reconstruction cases.
Patients should be aware that their facial reconstruction may involve a multi-procedure approach. Dr. Harirchian will examine your x-rays and listen to your ideal goals for reconstruction before developing a treatment plan. Rest assured that Dr. Harirchian fully realizes the devastating impact that a facial trauma can have, on your self-esteem as well as your quality of life. Therefore, she is committed to implementing the best surgical plan possible to restore your face to its most natural appearance and function.
It's been such a pleasurable experience having Dr Harirchian as my surgeon! She is very knowledgeable in her profession. She is honest and clear on the results you are looking at with the procedures done. She is very personable making the journey comfortable.
To learn more about Dr. Harirchian's unrivaled skillset in facial reconstruction after trauma, please contact our office in Houston today to schedule your consultation. We can help you put the past behind you.