Page Updated: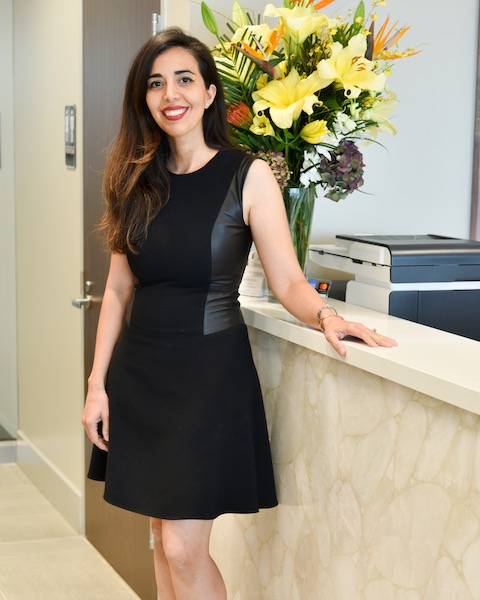 Defined cheekbones are a hallmark of an elegant facial appearance and help create more contour and the appearance of a thinner face. Babies and children often have full or rounded cheeks that gradually become thinner with age, but some people retain chubby cheeks as adults. If you feel that your cheekbones are hidden under round, square, or plump cheeks, cheek fat reduction surgery could help you achieve a more refined appearance. Also called buccal lipectomy, this facial contouring procedure involves reducing or removing the fat located in the hollow of the cheek, which is called the buccal fat pad. Dr. Sanaz Harirchian is a Board-Certified facial plastic surgeon with the skill and experience to perform cosmetic cheek reduction with natural-looking results.
Get Defined Cheekbones
Buccal fat removal to reduce full cheeks is a relatively simple procedure with minimal downtime. The goal of this procedure is to give a slimmer look to the face and create a more chiseled and contoured mid-face. Patients who are concerned with "chipmunk cheeks" or an overly round face may benefit from buccal fat removal. It is also sought after by individuals who simply want to enhance their cheekbones or gain a more tapered appearance in the lower face. Cheek reduction may also be combined with other minimally invasive procedures for face and neck. Dr. Harirchian frequently combined this procedure with liposuction of the lower face & neck, and radiofrequency microneedling for increased contour and definition.
How Does Buccal Fat Pad Removal Work?
Preparing for Your Procedure
If you are interested in buccal lipectomy, the first step is a consultation appointment with Dr. Harirchian. She will examine your face and discuss your goals in order to determine if this procedure is right for you.
What to Expect During Your Procedure
Dr. Harirchian performs buccal fat removal with incisions hidden entirely in the mouth. It is an intraoral procedure that involves no visible scarring, minimal discomfort, and a quick recovery time. The size and shape of the buccal fat pad varies, and Dr. Harirchian will customize her approach depending on your individual facial structure and your desired results. At our Houston office, we value the importance of using a patient-centered approach and delivering comfortable and safe care at all times.
Buccal Fat Removal Recovery
There is minimal downtime required after buccal fat removal, but you may need to avoid certain foods for several days after surgery. You will be given detailed post-op instructions and medications to improve healing after surgery.Buccal Fat Removal ResultsImmediately after your cheek contouring procedure, you will likely experience some temporary swelling. Once swelling subsides, you will be able to see your results and appreciate a slimmer face with more defined cheekbones. Cheek contouring results are designed to be natural-looking and long-lasting for optimal patient satisfaction. Highly recommend! Very skilled, compassionate, and professional Doctor! I was very nervous at the beginning of my appointment but she was very comforting and I couldn't be happier with my results! I will be back for more procedures and recommended her to all my friends and family! Thank you Dr. H!
Buccal Fat Removal Candidates
If you desire more contoured cheekbones or a slimmer face, buccal fat removal could be right for you. Ideal candidates are in good general health and have realistic expectations.
Contact Dr. Harirchian for Cheek Reduction Surgery in Houston
Dr. Harirchian and her team are dedicated to helping patients achieve the best version of themselves. Contact us today to schedule your consultation or learn more about cheek reduction and other facial contouring procedures.