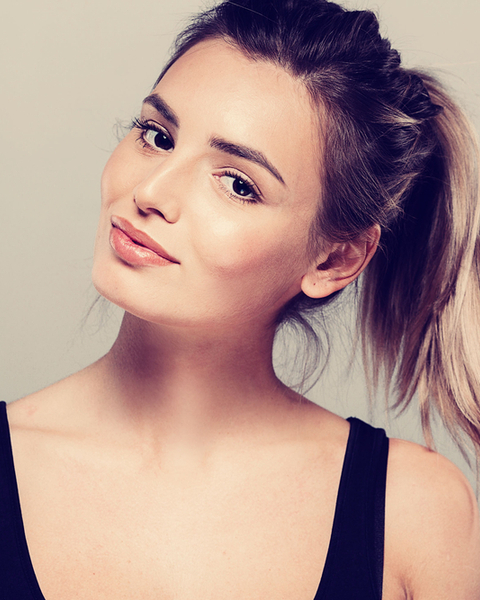 If you are bothered by your wide jaw line or square jaw appearance, you may benefit from masseter reduction treatment. The masseter muscles are the chewing muscles of the jaw. When these muscles are too thick or too large, it can make the jaw appear square, too harsh and unattractive. To reduce the jawline and restore the face to a softer and desirable V-shape appearance, a non-surgical masseter reduction procedure can be done. Dr. Harirchian specializes in a full menu of non-invasive procedures for the face and neck. As an elite facial plastic surgeon, she understands how to bring the facial features into proper harmony and balance while delivering the most natural-looking results.
Masseter muscle reduction is a quick in-office procedure that can be accomplished with Botox injections. Ideal candidates typically have pronounced chewing muscles of the outer jaw that can be distinctly felt when clenching the teeth. The masseter muscles may become enlarged due to excessive gum chewing or other factors. Regardless of what has caused you to seek a slimmer jaw line, we can help you at our state-of-the-art plastic surgery center in Houston.
Botox for Masseter Reduction
During your Masseter Reduction with Dr. Harirchian, she will strategically inject Botox along the masseter muscle on each side of your face. Typically, only three or less injections are needed on each side to accomplish primary results. Patients can expect little to no discomfort and return to normal activities immediately after this five-minute procedure. The square jaw appearance will continue to improve over the course of two to six weeks. Repeated treatments may be given if deemed necessary.
When it comes to reducing the jaw line, Botox essentially works by relaxing the masseter muscle. Botox is a safe and FDA approved neuromodulator that can temporarily inhibit muscle contraction. When injected into a flared jawline, the masseter muscles lose mass and reduce in size, thus creating a more desirable facial shape. Rest assured that Dr. Harirchian is a leading Botox specialist who will never compromise the function of your facial muscles for the sake of a more attractive appearance. Our Botox and other facial injections are performed with the highest level of expertise and safety. I was very impressed with her assessment of what she needed to do to get the results I wanted in fillers and Botox. I am very pleased with the outcome. It was my first time using her and it will not be my last. Very soft touch too. She has a soothing manner about her. The final outcome exceeded my expectations.
Want to get rid of your square jaw but have more questions about Masseter Reduction using Botox? Contact Dr. Sanaz Harirchian in Houston today.