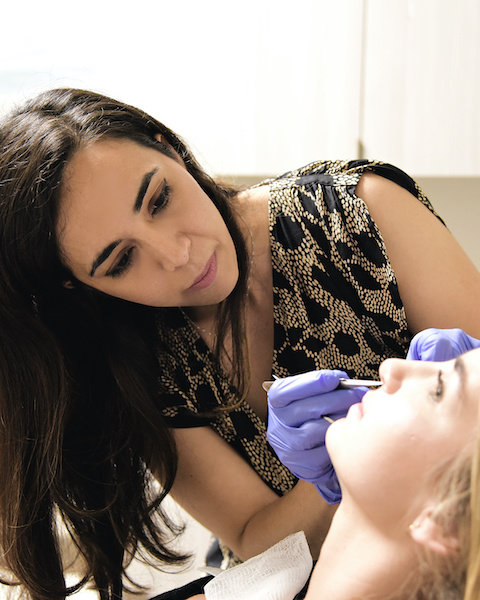 The facial folds, lines and wrinkles that we encounter with age are essentially the result of elasticity and collagen loss within the skin. When the facial skin loses its natural flexibility and strength, and collagen is no longer present to keep the skin firm, we see an increasing number of wrinkles and deep lines across the face. For those that want to avoid a facelift or other plastic surgery procedure, facial fillers are an ideal choice. While they don't offer permanent results, the latest filler products provide effective rejuvenation for several months at a time.
Dr. Harirchian is proud to offer one of the most proven and longest lasting facial fillers on the market. Radiesse is known as an excellent volumizing facial filler that addresses facial folds and wrinkles. This product carries the unique ability to stimulate your body's natural production of collagen.
Radiesse Injections
Radiesse contains calcium-based microspheres, which provide an ideal framework for your skin. When injected properly, Radiesse delivers structure and volume to the aging areas of the face and enables the skin to naturally stimulate and replenish its collagen supply. Collagen stimulation after Radiesse injections can continue for several months. Therefore, your results may extend for up to one year after treatment.
Radiesse is a safe and widely used injectable filler. Dr. Harirchian often recommends Radiesse to reduce the appearance of wrinkles, frown lines and furrows. However, this filler product can also be used to plump the lips or treat unsightly scars. Regardless of how or why we use Radiesse for you, you can expect to benefit from natural-looking rejuvenation. Dr. Harirchian has extensive experience and knowledge in non-surgical facial procedures. She understands the careful blend of artistry and science that it takes to create results that are balanced and beautiful.
To learn more about Radiesse facial fillers from Houston's most respected facial plastic surgeon, contact our office today. We offer a full menu of options to help you feel confident and look younger.