Page Updated: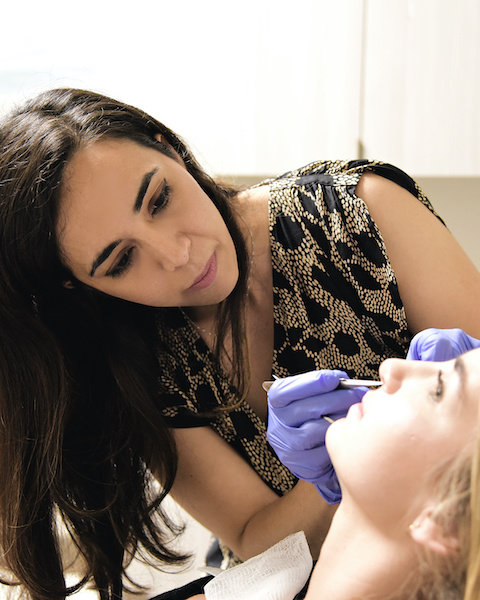 Facial aging occurs in 3 different layers. At the deepest level, the muscles, fat pads, and ligaments of the face and neck descend with gravity. This can result in jowls, deep nasolabial folds, and a sagging neck. Volume loss in the face can also occur, losing the fullness associated with youth and revealing the underlying bone structure. Changes also occur in the composition and texture of the skin.
Young and healthy skin is characterized by constant skin cell renewal, as new cells are brought to the surface as older cells are shed. Young skin also has an abundance of oil glands and glycosaminoglycans, which maintain skin's moisture. Glycosaminoglycans also play a role in supporting collagen and elastin in the skin. With aging, the epidermis (outer layer of the skin) has less cell turnover and renewal, and less regenerative capacity and repair of free radical damage. The dermis (middle layer of the skin) loses collagen and elastin. Brown spots and uneven skin tone develop. In addition, the skin loses oil glands and the ability to maintain its moisture. All these changes in the aging skin can result in loss of firmness, fine lines and wrinkles, brown spots and uneven skin tone, and drier less radiant skin. These skin changes can be accelerated by ultraviolent sun exposure, smoking, and improper skin care.
Although changes in your skin are inevitable with aging, you can control how fast and to what degree changes in your skin occur. Great skin care can improve the quality and texture of your skin by reversing biological and environmental aging. Skin resurfacing is an essential non-surgical treatment to fight against aging.
There is a spectrum to skin resurfacing procedures, from less invasive to more invasive. Indications for skin resurfacing include superficial or deep wrinkles, uneven skin tone, brown spots, acne scarring, skin textural changes, and scar revision. The choice of skin resurfacing procedure depends on patient goals, skin type and tone, and desired effect. Skin Resurfacing Techniques & Procedures
Modern scientific advances have produced lasers that are safe and yield great results in experienced hands. Dr Harirchian uses the fractional Co2 laser to reverse the effects of facial skin aging and sun damage. The fractional Co2 laser uses thermal energy to resurface the top layer of the skin and produce new collagen. Thermal injury is created in microscopic treatment zones made up of columns of tissue. The skin then regenerates through wound remodeling, and new collagen is produced.
The fractional Co2 laser has the effect of significantly improving:
skin tightness
lines and wrinkles
crepey skin
reduces acne scarring
improves surgical and traumatic scars
reduces pore size
improves overall skin texture and appearance
Maximal results can take 3-6 months due to the time it takes for new collagen to form.
Fractional Co2 laser can be combined with surgery to improve the fine lines and wrinkles. It can be combined with facelift surgery or lower eyelid surgery for maximal improvement of skin aging.
Microneedling (Collagen Induction Therapy)
Microneedling is an office procedure designed to stimulate the production of new collagen. During microneedling, tiny needles create hundreds of micro-holes in the skin. This stimulates the skin to heal itself, and new collagen is produced. The results seen with micro-needling are less dramatic than the results seen with fractional Co2 laser resurfacing. Microneedling is best for patients who may not be candidates for fractional co2 laser or want quicker down-time and recovery.
Are your ready to rejuvenate your skin? Contact our office in Houston today to schedule an appointment with Dr. Harirchian.