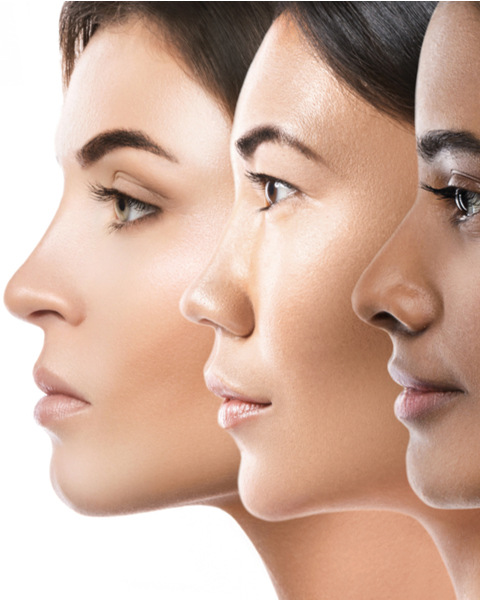 Saddle nose refers to a deformity of the septum cartilage, or midline support of the nose. When this internal structure suffers damage, weakness or collapse, it can create an unwanted concavity ("saddle") on the bridge of the nose. While saddle nose deformity can be a significant threat to a person's self-confidence, it can also create breathing problems when it is more severe. Dr. Harirchian is a board certified and fellowship trained facial plastic surgeon who carries distinguished skill and talent when repairing, refining and reshaping the nose. She understands the delicate internal structures of the nose and how to create a more balanced and attractive appearance while enhancing or preserving breathing function.
Surgery for Collapsed Nose Repair
Depending on the severity of your saddle nose deformity, it can be a mild depression that only affects your profile or a more significant concavity that distorts the height and tip of your nose. Regardless of your specific needs, you can trust Dr. Harirchian to tailor your treatment plan accordingly. She is known for her unrivaled performance in nose surgery, creating long-lasting results that optimize function and a natural appearance. She uses a variety of reconstructive techniques to repair saddle nose, including cartilage grafts, bone grafts and implants. Dr. Harirchian can also perform septum perforation repair if needed.
I looked for a few years for a surgeon to do my rhinoplasty and really liked the work Dr. Harirchian had done on other patients. I decided to choose her after a great consultation that made me feel comfortable and confident that I would get the results I wanted. Minimal bruising, pain, and swelling 1 week post-op. I'm very happy with my results so far and would recommend her for anyone considering rhinoplasty!
The outcome of collapsed nose repair can be life-changing for many patients, as it not only makes them look more attractive, but it allows them to breathe more comfortably and efficiently. If you have a saddle nose deformity due to trauma, prior nasal surgery or other causes, we invite you to schedule a consultation with Houston's most trusted nose plastic surgeon. Contact Dr. Sanaz Harirchian today to learn more about the procedure, recovery and costs of saddle nose repair.