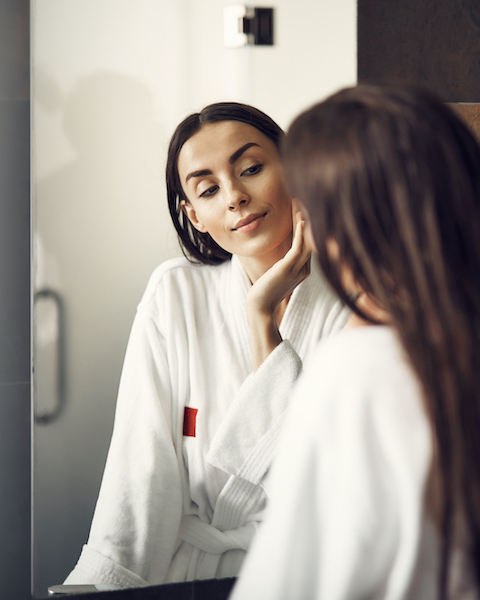 Acne scars are not only unsightly, but they can also serve as a physical reminder of your emotional struggle with acne as a teen. Severe or abundant acne scars can prevent you from attaining a smooth, revitalized complexion as an adult. If you want to dramatically reduce the appearance of your acne scars with the latest non-invasive procedure in laser technology, turn to Sanaz Harirchian, MD.
Most cases of acne scarring occur when patients have had a persistent battle with inflammatory acne on the same areas of the face. Inflammatory lesions in the skin can produce unwanted scars over time. Just as there are various types of acne, there are also different types of acne scars. Dr. Harirchian is well aware of the distinct types of acne scars. They include ice pick scars, atrophic scars and hypertrophic scars. She will tailor her treatment plan accordingly. Our laser skin resurfacing technology is highly sophisticated and proven to treat severe acne scarring without surgery.
Treatment for Severe Acne Scarring
When over the counter creams fail to soften your acne scars, it may be necessary to consider more sophisticated treatments from a facial plastic surgeon. While chemical peels, dermabrasion and facial fillers can address stubborn acne scars, laser skin resurfacing often provides the most effective non-surgical solution for more severe or deep acne scars.
Dr. Harirchian performs laser skin resurfacing with the fractional Co2 laser. This cutting-edge laser technology emits thermal energy to resurface the top layer of the skin and stimulate new collagen production. This natural skin regeneration process will work overtime to fill in the depressions and pits of acne scars to create a smoother, more attractive appearance. Collagen remodeling after laser skin resurfacing can occur for up to 6 months. Dr. Harirchian advises patients on proper skin care products and sun protection to maximize your results after laser acne scar treatment.
It's been such a pleasurable experience having Dr Harirchian as my surgeon! She is very knowledgeable in her profession. She is honest and clear on the results you are looking at with the procedures done. She is very personable making the journey comfortable.
Just because acne plagued you in the past, doesn't mean you have to battle the scars it left behind. If you desire a smooth, even-toned and attractive complexion, please contact our office in Houston today to learn more about Laser Acne Scar treatment. In our commitment to provide the highest quality care to our patients, we proudly offer a full menu of the most proven acne scar remedies available.