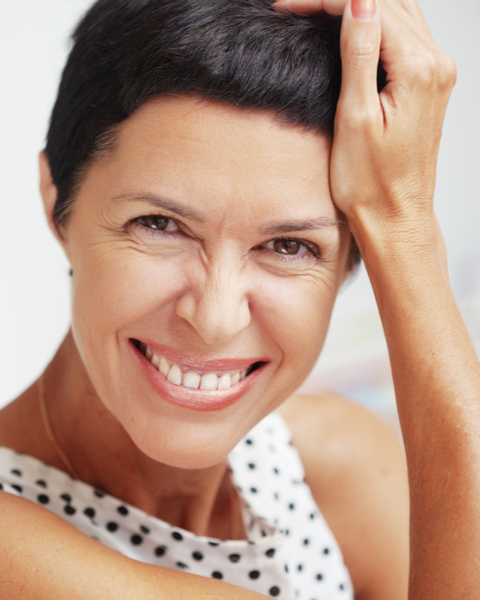 Mohs surgery is the most preferred procedure for removing skin cancers on the face. It is a procedure that involves an intricate excisional process and microscopic examination to remove the skin cancer tissues in thin layers. While Mohs surgery is intended to minimize the removal of healthy skin tissue, many patients are left with an unsightly gaping wound following the procedure. In order to restore the skin cancer removal site to its most natural and aesthetically pleasing appearance, a skilled Mohs plastic surgeon is needed.
Dr. Sanaz Harirchian is well equipped to handle all types of Mohs skin cancer and facial reconstruction. Skin cancer knows no limits as to where it can develop on the face. Therefore, some patients have Mohs surgery lesions that only threaten their appearance, while others may find that they are compromised in function as well. As a plastic surgeon with expertise in both cosmetic and reconstructive surgery, you can trust that Dr. Harirchian can address your Mohs skin deficit and scarring in a way that delicately restores aesthetics and function. Ultimately, we want patients to regain their self-confidence after skin cancer instead of being reminded with a disfiguring scar every time they look in the mirror.
Facial Skin Cancer Closure
Facial skin cancer closure is performed on both simple and complex cases involving the eyelids, ears, nose or lips. Dr. Harirchian will use advanced surgical techniques to safely restore the face while minimizing or eliminating any visible scarring. This may include reconstructive methods using skin flaps or skin grafting, depending on the severity of your Mohs surgery wound. Dr. Harirchian takes into account the size and depth of your skin cancer scar as well as its location on the face when determining which surgical approach is best for you.
Dr. H and her staff have been absolutely wonderful. From my initial consultation, through my post-op appointments, I have been so happy with the entire experience. I am so glad I found Dr. H, and have already recommended her to my friends and family!
If you have an upcoming Mohs surgery scheduled, we recommend you contact us today for an appointment and start planning your facial skin cancer closure as soon as possible. The timing of your plastic surgery can influence the overall success of your outcome. Dr. Harirchian works closely with local Mohs surgeons to offer patients same day service for optimal convenience and better results.