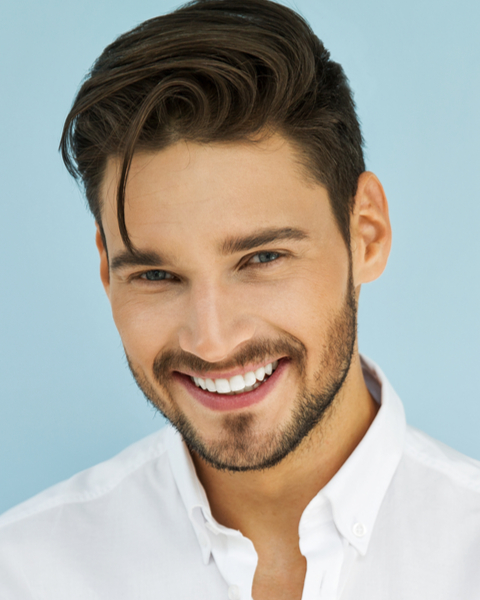 When it comes to male rhinoplasty, it is critical to create ideal harmony within the face while also protecting masculinity. Dr. Sanaz Harirchian is an elite plastic surgeon who focuses solely on cosmetic and reconstructive surgeries for the face. She offers a full menu of procedures tailored just for men, including male rhinoplasty. Male rhinoplasty can involve a number of dedicated techniques to improve the appearance and/or function of the nose. Dr. Harirchian carefully considers the patient's clinical needs and personal goals when determining the best rhinoplasty approach. You can trust that she will utilize advanced techniques that preserve cartilage and produce subtle, natural-looking and sustainable improvements within the nose.
Male rhinoplasty is a highly sought after procedure for many reasons. While some men want to correct a flawed nose they were born with, others want to repair a fractured nose that was injured during sports or a nose that has suffered unwanted signs of aging, such as thicker nasal skin or changes in the nasal tip. Male rhinoplasty can effectively correct all of these issues and more.
Regardless of what has led you to seek male rhinoplasty, we are confident we can help you. Dr. Harirchian performs both open and closed techniques and offers specialized nose job procedures such as ethnic rhinoplasty, nasal valve collapse repair, saddle nose repair, deviated septum repair and revision rhinoplasty.
Male rhinoplasties are distinctly different than female rhinoplasties. I like to maintain a strong masculine nose while still softening the features and creating improved facial balance.
– Dr. Sanaz
Nose Job Surgery for Men
Are you unhappy with the appearance of your nose? Is your breathing compromised due to imperfect nasal structures? We invite you to take advantage of male rhinoplasty from an elite plastic surgeon in Houston. Dr. Harirchian can perform nose job surgery for men to accomplish the following cosmetic concerns:
Reduce the size of the nose

Sculpt the tip or bridge

Narrowing the nostrils

Improve the angle between the nose and the upper lip

Remove a nasal hump

Correct a bulbous tip
In addition to these aesthetic concerns, there are times when the function of the nose is also threatened. Deformed or damaged nasal structures can inhibit proper breathing. Dr. Harirchian carries elite skill when working with the delicate internal cartilage and bone of the nose to preserve or improve functionality.
When choosing male rhinoplasty at our Houston practice, we will consider a variety of factors when creating your treatment plan. This includes your ethnicity, your surrounding facial features, your nasal skin thickness as well as your personal goals for surgery. Dr. Harirchian can also give patients an accurate depiction of what to expect from their male rhinoplasty, using our advanced VECTRA 3D imaging system.
To learn more about male rhinoplasty from Dr. Harirchian in Houston, please contact us today to schedule your consultation.