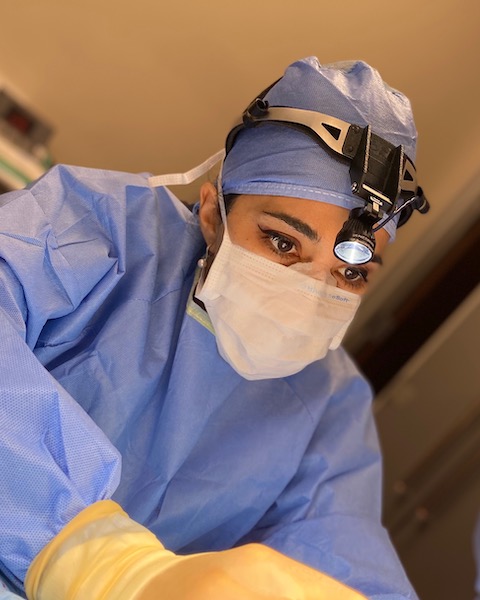 There is a valve in the narrow part of your inner nose that controls airway resistance as you breathe in and out. This nasal valve is essential for proper and comfortable breathing function. When the narrow portion of the nose suffers trauma, it can cause the nasal valve to collapse. This can restrict or obstruct breathing, and therefore requires surgical treatment. Choosing a skilled nose surgery plastic surgeon to perform your nasal valve collapse repair means that you will gain an outcome that is optimal in function as well as aesthetics. Dr. Harirchian understands the intricate cartilage and bones of the nose and how they work together to allow efficient breathing and form ideal aesthetics.
Nasal Vestibular Stenosis Correction
When one or both sides of the nose fall inward while breathing, it is termed nasal vestibular stenosis. This indicates that the internal nasal valve has collapsed and needs to be reconstructed. Dr. Harirchian uses advanced grafting techniques to rebuild the nasal valve. The graft is typically placed between the septum and the upper lateral cartilage. It takes a highly trained and skilled plastic surgeon to successfully perform this complicated nose surgery. You can trust that Dr. Harirchian has helped countless patients regain ideal breathing after nasal vestibular stenosis. Her deep knowledge of the nose and unmatched surgical precision ensures you can achieve superior results.
Dr. Harirchian takes the time with each patient to carefully explain their treatment plan and what to expect during recovery. It is important to us that patients take an active role in their nasal surgery so that they remain confident in their decision for plastic surgery. Restoring proper breathing function in the nose through nasal valve repair can significantly improve a patient's quality of life.
Professional, efficient, prompt, and extremely effective. The perfect experience from start to finish, across all members of staff encountered, and resulting in a corrective surgery that has improved life quality and resolved a long standing breathing issue. Patient management was exceptional from diagnosis, through procedure explanation, surgery, post care and recovery management, and follow up. I could not recommend this Doctor and her staff more highly.
Nasal deformities, whether internal or external, can be devastating. If you want a trusted and respected plastic surgeon to address your nasal valve collapse, please contact our Houston office today to schedule a consultation with Sanaz Harirchian, MD.